Copernicus is a new and very different portfolio from all other portfolios tracked here at ITA Wealth Management.  If I were giving advice to a young person who just secured their first job and had a little money to save each month, the Copernicus comes close to my recommendation.  In addition to following this investing model, I would also recommend the young person max out their Roth IRA using this model.
Launched in early 2022, the goal of the Copernicus is to invest in either ESGV or VTI and avoid selling.  Save as much as you can each month and purchase shares in the broad U.S. Equities market.  Then let those shares ride and never sell.  No, there is no downside protection to this model.  This portfolio is designed to be as simple as possible.
Copernicus Investment Quiver
The investment quiver for the Copernicus is quite simple as we are investing in the total U.S. Equities market.  ESGV is a socially responsible ETF and that is where I will place the emphasis for this simple portfolio.

Copernicus Recommendations
The following screenshot is only shown so you can see what the Kipling spreadsheet is recommending.  I am over-riding the recommendation as this portfolio is operating under its own philosophy.
What to do with the available cash is quite simple.  I place limit orders for 5 shares at a time and ladder those limit orders using different prices under the current price.  So long as we have unrest in Eastern Europe, I anticipate the U.S. Stock Market will decline.  The idea is to pick off the limit orders five shares at a time.

Copernicus Performance Data
Examine the performance data and risk ratio data with the understanding the Copernicus is young and the annualized data is skewed.  How did I manage to have an IRR for the Copernicus be so much higher than the three benchmarks?  A number of shares were purchased using limit orders in late February and some of those showed recovery last week.  Overall, the portfolio is still in the hole with an annualized return of negative 7.0%.

Copernicus Risk Ratios
Futures are again down this morning as I write this so one would not expect any improvements in the following values.  It will take at least a year to gain some appreciation to how well this model works, and even that is a very short period to come to any conclusions.  Historically, this model would have worked out very well had one started in 1960.  If using back-testing as a guide, this would have been an excellent model to follow.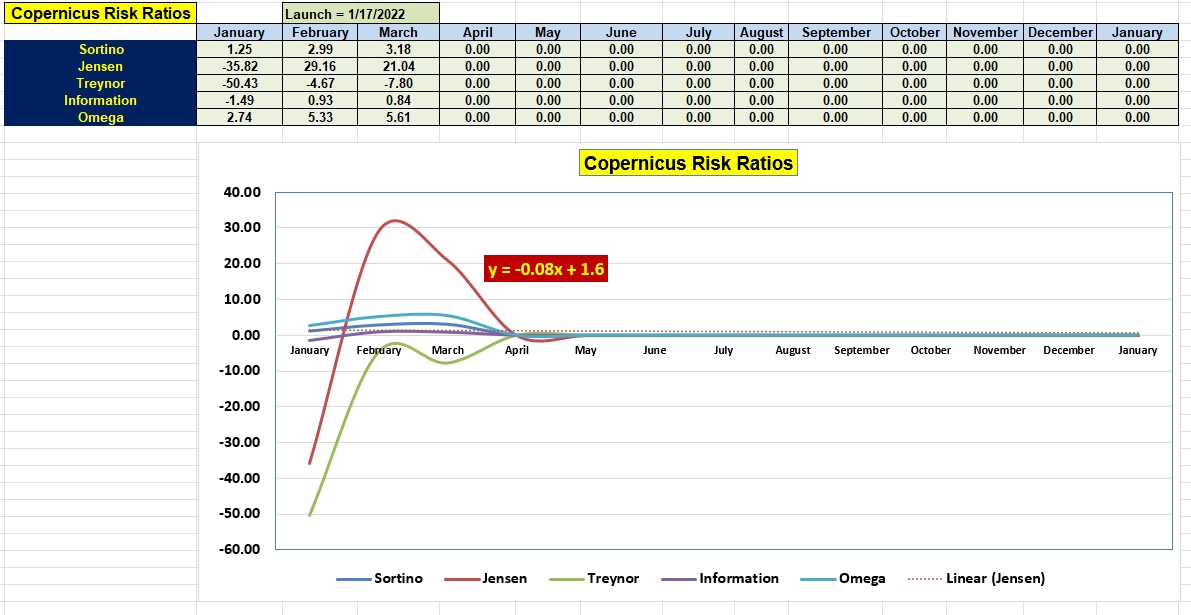 The Elements of Investing: Part II
To long-time readers who are still paying dues to read this blog, the information is now free so you can cancel your PayPal subscription.  You have been upgraded to Lifetime membership.
(Visited 75 times, 1 visits today)