The Dual Momentum™ Galileo portfolio is scheduled for review this afternoon.  A few settings are important to consider.  The obvious setting are:  1) The investing model is set to DM.  2) The VTI target filter is turned off.  Less obvious is the look-back period.  With the Galileo I'm using the default combination of 60- and 100-trading days with 50% and 40% weights.  Gary Antonacci, DM developer, recommends longer look-back periods.  I'm following his advice with the Pauling and McClintock portfolios.
Galileo Security Recommendation
Using mid-morning prices the recommendation is to continue to hold 100% of the portfolio in TIPs (SCHP).  I placed a limit order to pick up two more shares of SCHP.
The beta for SCHP is negative and that is why the Galileo has such a low beta.  This directly impacts both the Treynor and Jensen risk ratios.

Galileo Performance Data
The following data begins on 11/30/2020 or when the Franklin was launched.  Going back to 4/30/2017 or when I first started using the Investment Account Manager software, the Galileo is outperforming the AOR benchmark as well as the two Vanguard Target Funds.

Galileo Risk Ratio
One change for the Galileo is the negative slope for the Jensen.  There were numerous high values last summer and we will need to work through those before we see the slope of the Jensen turn around.  The current Jensen Alpha value of 7.9 is quite high.
When the next set of performance data is publish, be sure to compare the different DM portfolios with the Schrodinger as I use the Schrodinger as a default benchmark.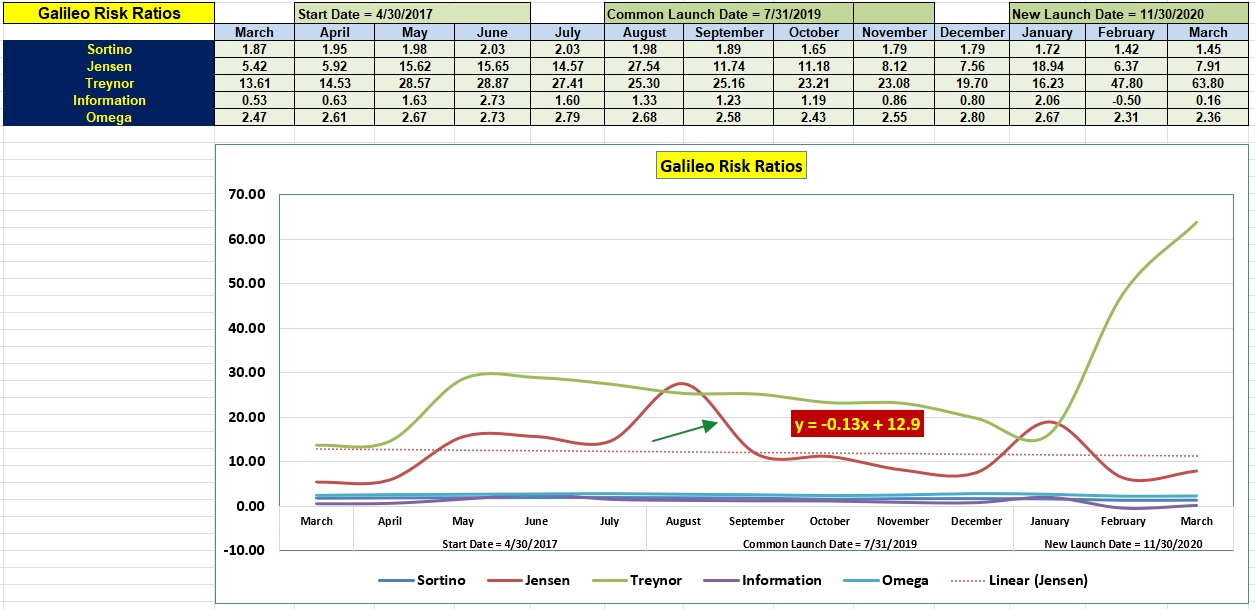 text
(Visited 99 times, 2 visits today)