A market rise yesterday indicates the U.S. equities market continues to run on FED infusion fumes.  Deficit spending continues to power this market.  What will happen when the faucet is turned off and a scissor is taken to the government credit card?  While there is a lot to worry about, the review of the Galileo will stick with the numbers while keeping emotions in check.
This is a full review of the Galileo.  Prices will be updated after the market opens so there may be a few changes based on what you see below.  If the recommendation changes I'll post that information in the Comments section.
Galileo Investment Quiver
The investment quiver of the Galileo focuses on the Big Three (VTI, VEA, and AGG) although I have added TLT and LQD as options when equities are out of favor.

Galileo Dual Momentum Recommendation
The default look-back combination of 60 and 100 trading days is used with the Galileo.  Based on 8/5/2020 prices, the recommendation is to sell all shares of VTI and move to International Equities (VEU).  Instead to selling at market, I plan to place a TSLO under VTI.  If you look at the Heikin-Ashi percentages, they are higher for VTI compared to VEU.  The same is true for the Projection percentage.  In addition, the Exponential Moving Averages are all higher for VTI compared to VEU.  These are manager decisions which each of you will need to make.

Galileo Performance Data
This first performance screenshot includes data running from 4/30/2017 through 8/5/2020 or over three years.  The Galileo holds a respectable lead over all the benchmarks.  VTHRX is the benchmark for the Galileo as well as for most of the ITA portfolios,

This second graph shows quarter by quarter performance for a three-year period.  The big difference came in the first quarter of 2020 when the Galileo was in treasuries and avoided the Covid-19 crash.  We attribute this to the luck-of-review-day rather than intelligent management skills.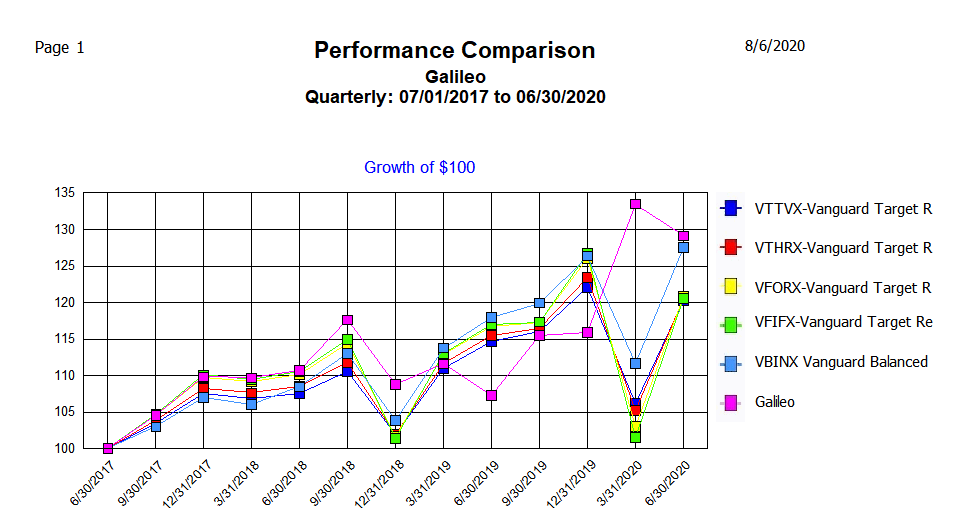 Galileo Risk Ratios
Here we have three months of data for the five risk ratios.  All figures are above zero and that is significant.  As we compile additional data this information will become more meaningful.
Keep watch on the Jensen Alpha percentage as that is one of the more important values.  The Sortino ratio is also significant.  Don't expect to see the Sortino maintain this very high level.
(Visited 38 times, 1 visits today)