Galileo is the Dual Momentum™ portfolio not participating in the look-back experiment and as a result uses the 60- and 100-trading day combination.  That information is visible in the first screenshot shown below.
Based on current prices, the Galileo is calling for rebalancing and that took place earlier this morning.
Galileo Dual Momentum Recommendation
After the market opened I sold 69 shares of BND and purchased 92 shares of SCHP.  That exhausted available cash.  I continue to hang on to 2 shares of ESGV so the beta value for the Galileo will not go negative and cause issues with the risk ratio calculations.
SCHP is not a bad place to park money as it is currently throwing off a yield of 6.5%.

Galileo Performance Data
This Dual Momentum™ portfolio is not setting records for performance, but at least it is outperforming the AOA benchmark as well as besting both AOR and VT.
The data runs from 11/30/2020 through mid-morning of 9/2/2022.  We are closing in on two years of data for these portfolios.

Galileo Risk Ratios
Recall that 2021 was a stellar year for U.S. Equities.  We still have several months of those wonderful months before we hit 2022 data. ITA readers recall the poor performance during the first six months of this year.  While the Information Ratio tells us we are outperforming the AOA benchmark, the slope of the Jensen is still in decline.
Since this is only the 2nd of September, don't pay too much attention to the latest September data.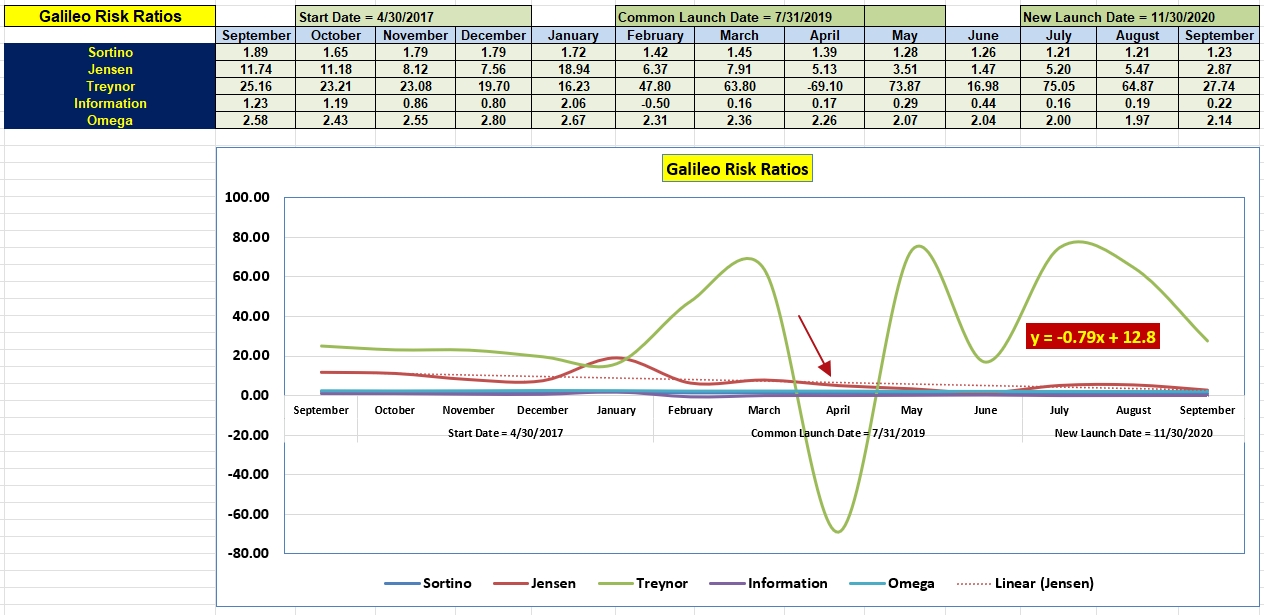 (Visited 39 times, 1 visits today)