Rather than adding updates at the bottom of my original post (https://itawealth.com/is-inflation-risk-likely-to-increase-a-low-cost-option-strategy-for-possible-participation/) I will start a new thread to avoid having to scroll down too much.
The May 164 Calls that had been sold on this position expired on Friday. I might have watched until the close and let the options expire worthless but, with GLD trading above $164 mid-afternoon, I decided to buy back the Call (for 0.36 – $36) and to roll out and sell the 170 strike Call expiring in June (~ a month from now). I was able to do this for a net credit of 2.10 ($210) and so reduce my maximum position risk to $2,384:

With GLD closing just under 164 at 163.93 a 100 share position in GLD would now be showing an unrecognized profit of $1,108 on an investment of $15,285 – or a Return on Investment (ROI) of 7.25%.
My original Option position (a diagonal spread) is presently showing an unrecognized profit of $1,019 or 27.4% ROI on the original purchase price of $3,718 for the long March 2021 Call and a 42.7% Return on Risk (ROR).
If I include the side-bet that I made by selling the May 165/167 Call spread to compensate for the fact that I missed an earlier roll of the original April Call that was sold, this adds $215 to my profit as that spread expired worthless on Friday enabling me to keep the premium that I had received. In combination with my original position this results in $1,234 profit on positions with a current maximum risk of $2,384 – or 51.76% ROR.
The current adjusted position now looks like this: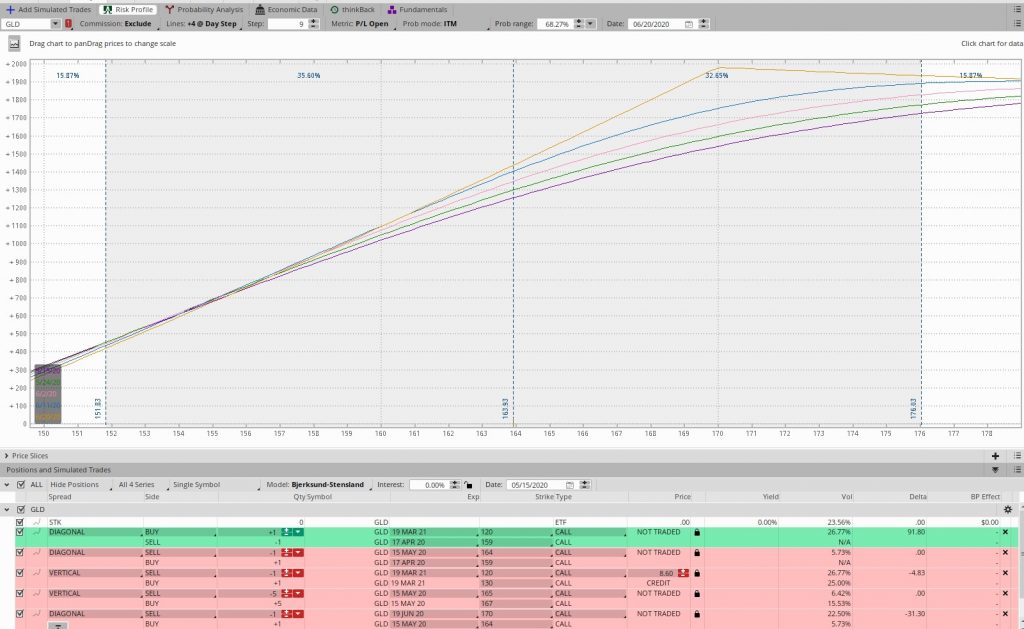 through to the June expiry of the 170 strike Calls.
Update: 29 May, 2020
As noted in the comment section I rolled down the June 170 Call spread to the 166 strike price for a $50 credit. The PnL graph now looks like this: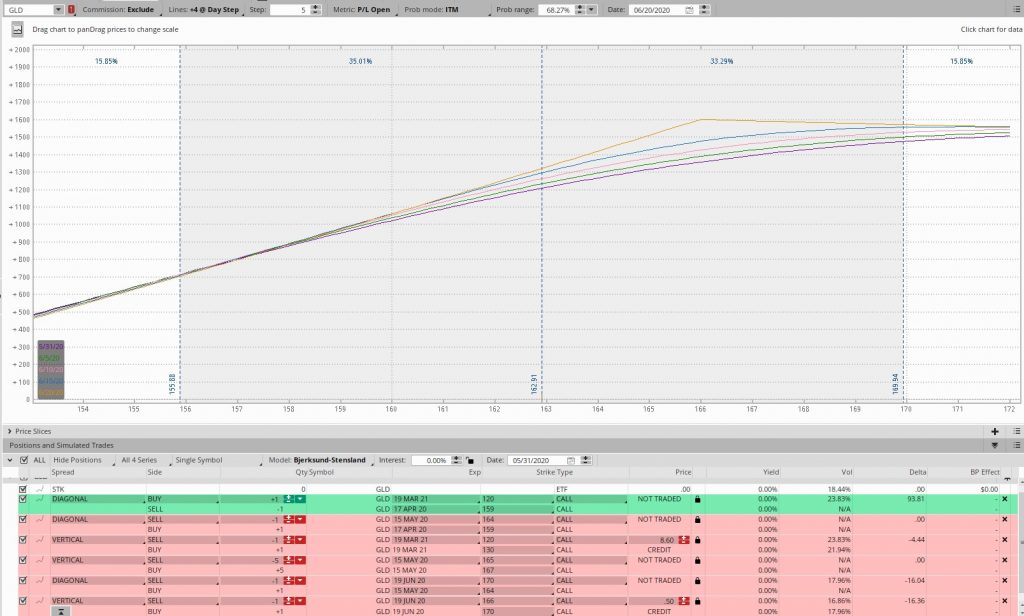 and, with GLD presently at $162.91, and a 100 share holding in GLD showing an unrealized profit of $1,006 (6.58%) the Option position is showing an unrelized profit of $965 on the diagonal spread trade plus a realized profit of $215 on the complementary side trade. This reflects as a 47.9% total return on a current risk of $2,466.

Update: 12 June, 2020
After showing a little weakness over the past 2 weeks GLD is presently sitting at $162.62 or about the same price as at my last update (above). Profit on a 100 share holding in GLD would be $977 or ~6.4% ROI. On the diagonal spread Option position we presently have a $1,006 unrealized profit with 27% ROI and 41% ROR:

Adding the additional $215 recognized profit from the closed Vertical spread position, total gains are presently sitting at $1,221 or 49.5% Return on Risk (ROR). The June 166 Call Option that was sold expires in 7 days and it presently Out-of-The-Money (OTM) – if it stays OTM we will pick up an additional $53 and will sell another Option further out in time (probably a monthly July Option). We'll take a look at possible options next week.
Update: 19 June, 2020:
The short Calls in this position expired today with the 166 Strike Call option that I sold ending Out-of-The -Money with GLD closing at $164.25. This means that I get to keep the $96 premium that I received when I sold this Option. Overall the position now looks like this:
where a 100 share investment in GLD would be showing an unrealized profit of $1,140 (~2.5% ROI). My Option positions are presently showing an unrealized profit of $1,190 (~32% ROI) on my original trade and a ~59% Return-on-Risk (ROR) on total positions (including the May Vertical Spread "side-bet"). Current Risk is now reduced to $2,370 and "break-even" is with GLD at ~ $146.
On Monday I will sell another Call Option – probably the July 170 strike – for a premium credit of something a little over $100 (trading at ~1.12 on Friday's close) – bringing in ~$100 credit and further reducing risk by an equivalent amount.
Note that my first objective was to sell premium on the shorter term Calls to cover the premium paid for the original long Call Option. This was $540, and this will be covered with the next short sale (current realized profit from these short sales is $488). This will mean that I effectively own 100 shares with only ~$2,300 (15%) risk should GLD go to zero (a practical impossibility).
I will update this post with more details when I am filled on Monday.
My Monday fill on the July 170 Call Option was at 1.57 ($157 credit) – see above screenshot.
Update: 2 July 2020:
With 2 weeks to go before the expiration of the July 170 strike Options that were sold on 19 June the PnL position looks like this:

with an unrealized profit of ~$1,540 on a position with $2,170 risk (71% Return on Risk). The position will show a profit with GLD closing above $150.18 at expiration of the long $130 Call Options in March 2021.
Graphically, the PnL picture looks like this: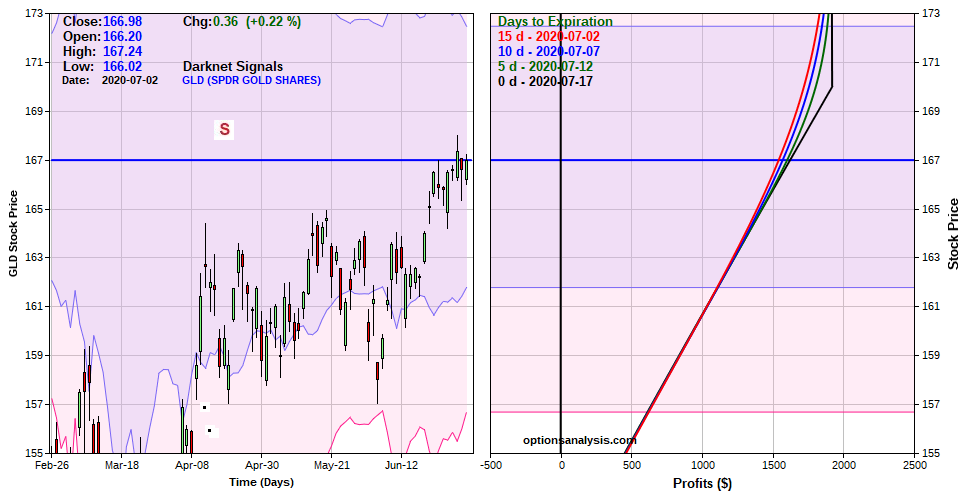 Update: 7 July 2020:
With GLD creeping up a bit I have reduced my risk on this position by rolling my Long March 2021 Call at the 130 strike to the 140 strike expiring on the same date. I was able to do this for a 9.25 credit ($925) that has significantly reduced my risk to $1,245 on this position:

Current (unrealized) profit is presently sitting at $1,615 or ~130% return on risk. Remember that my original risk on this position was $3,500 and this has now been reduced ~64% by rolling up the long Calls and selling premium in short-term Calls. This adjustment also lowers my breakeven point, a little, to $147.65.
David
(Visited 129 times, 1 visits today)