As we near the end of 2021, now is a good time to look forward and plan your investment strategies for 2022.  Assume returns for 2022 will not match those of 2021 as there is an abundance of uncertainty lurking on the horizon.  The pandemic will likely continue and nothing short of our democracy is hanging in the balance.  While this may seem like the "half empty" outlook, it pays to be cautious, particularly if one is retired or close to retirement age.  We simply don't know what impact the latest variants or autocrats will have on the world economy.
The first words of advice I can give for any year is to follow The Golden Rule of Investing.  All else is rhetoric.  For most ITA Wealth Management readers, no changes are necessary as you are most likely following strategies that meet your financial needs.  Many of the suggestions are "old hat" to long-time readers, but might be useful for new readers.
Next on my list of preparations is to diversify.  Not only diversify across asset classes, but across market factors.  The following sample portfolios provides ITA readers with such an example.  While this happens to be the investment quiver for the Kepler, I've been using, with success, this quiver of securities with other portfolios.  While there are highly correlated ETFs among this group, I temper this with the Strategic or Max AA percentages.  Another array of ETFs can be found within the Schrodinger portfolio.  These multi-ETF investment quivers are more complicated than the very simple three or four asset classes used with Dual Momentum™ portfolios.
This list of ETFs cover nearly all the essential asset classes.  I don't include Commodities or Precious Metals as I'm not a big fan of those two asset classes.  If you wish to include those asset classes, refer to the Rutherford portfolio.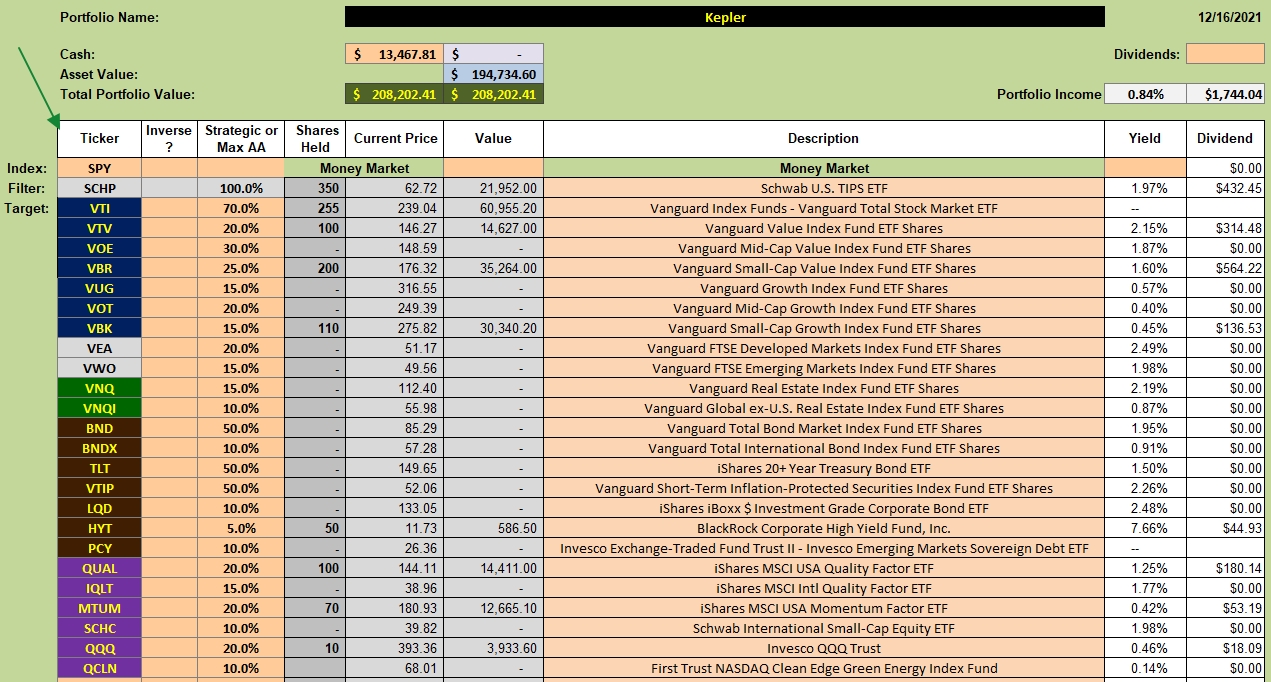 Whether you are an investing novice or highly experienced, seriously consider holding a percentage of your total portfolio in a Robo Advisor account such as the Schrodinger.  This portfolio originated in late July of 2017.  Since that time until this morning, the Schrodinger has a 12.15% annualized return.  The one disadvantage of this type of Buy-Hold-Rebalance portfolio is that one loses control over capital preservation.  That is not a major draw-back if your investing horizon is ten to twenty years.
Dual Momentum portfolios such as the McClintock and Galileo permit one to be more active when it comes to capital preservation.  I consider DM portfolios to be risk averse.

Summary
Save as much as you can as early as you can.
Diversify across asset classes and market factors.  Diversification is not diworsification as Peter Lynch is famous for saying.  We use strategic diversification.
Use index securities and avoid individual stocks unless your are an expert in stock picking and analysis.
Pick out one or two ITA portfolios that match your level of risk.  Follow those portfolios.
If possible maximize your savings in a Roth IRA as taxes are not likely to go lower.
Read William J. Bernstein's investment books.
Keep current with the ITA blog posts and select one or two of the most popular or random posts found in the footers of each page.
Ask questions.
Are you using the Kipling spreadsheet?  If you need help, contact me at itawealth@comcast.net and I will attempt to help you get started.  This offer is only available to Lifetime members.
Happy New Year
May we all have a peaceful and healthy year ahead.
(Visited 201 times, 1 visits today)