From one of the poorest portfolio performers (Kepler) we now shift to one of the best performers.  In addition, no particular skills are needed to manage the Copernicus, the portfolio up for review today.  Copernicus is the portfolio I highly recommend for those working full-time and have only a few minutes per month to pay attention to a stock portfolio.
The Copernicus is designed for the individual who electronically transfers money into this portfolio regularly and then purchases a few shares when sufficient cash is available.  Use an Exchange Traded Fund (ETF) such as VTI, VOO, SPY, or ESGV and let the market work its will year after year.
Copernicus Investment Quiver and Holdings
Currently, the Copernicus holds the largest percentage in VOO and this ETF also has the highest ranking based on calculations that come out of the Kipling spreadsheet.  None of the four major ETFs are currently recommended as a Buy.  Nevertheless, I have two limit orders in place where each one is set to purchase one share of VOO.

Copernicus Performance Data
Since 12/31/2021 this portfolio has outperformed the S&P 500 (SPY) by approximately nine percentage points (9.0%).  Pay no attention to the VT, AOA, and AOR percentages as they are not calculated correctly.

Copernicus Risk Ratios
All risk values are quite strong and significantly above where they were last year at this time.
With some very high Jensen values coming up in the spring it will be difficult to maintain a positive slope.  The goal for the Copernicus is to keep pace with the S&P 500.  Thus far the Copernicus is more than meeting this goal.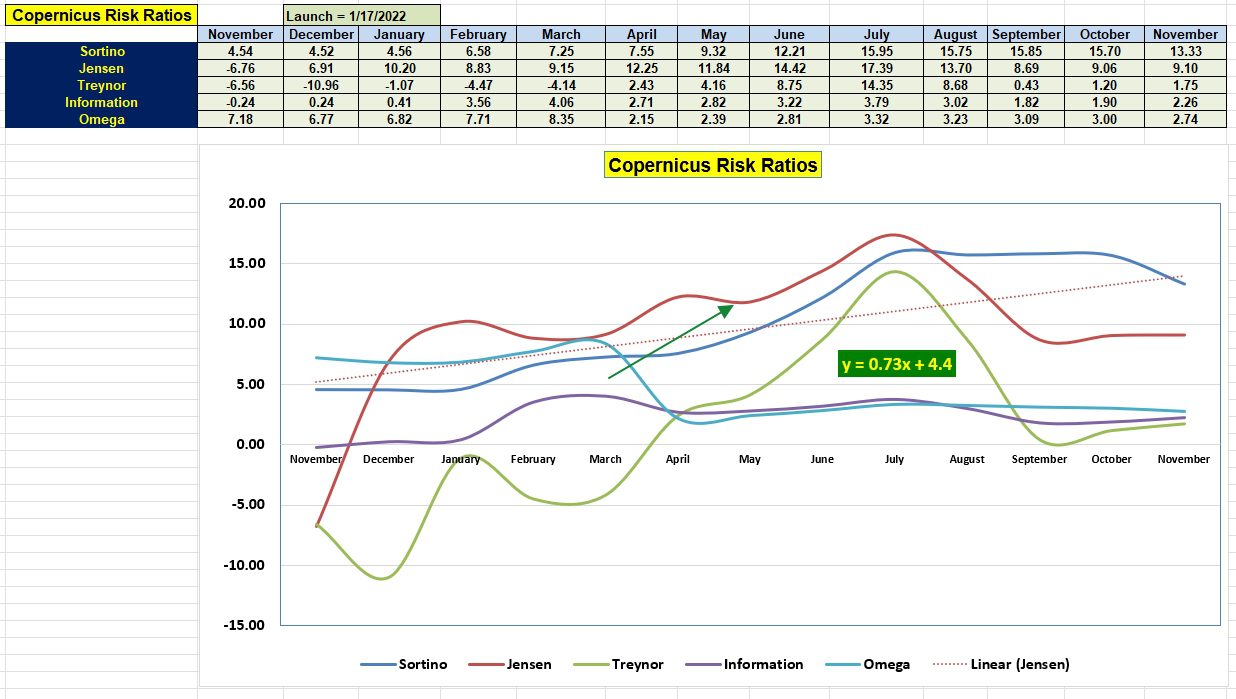 Copernicus Buy & Hold Portfolio Review: 18 May 2023
(Visited 14 times, 1 visits today)