As a followup to the BPI data posted earlier this morning, updating the Franklin will explain to ITA readers how one handles the sale of VNQ.  Real Estate BPI data recommended selling all shares a few weeks ago.  When the sell signal showed up I set a Trailing Stop Loss Order for VNQ.  The sale turned into a profit.
Franklin Investment Quiver
Below is the investment quiver for the Franklin and the holdings in the different securities.  Due to the sale of VNQ we now over about $3,200 to invest.  How do we use this money when no sectors are recommended for purchase?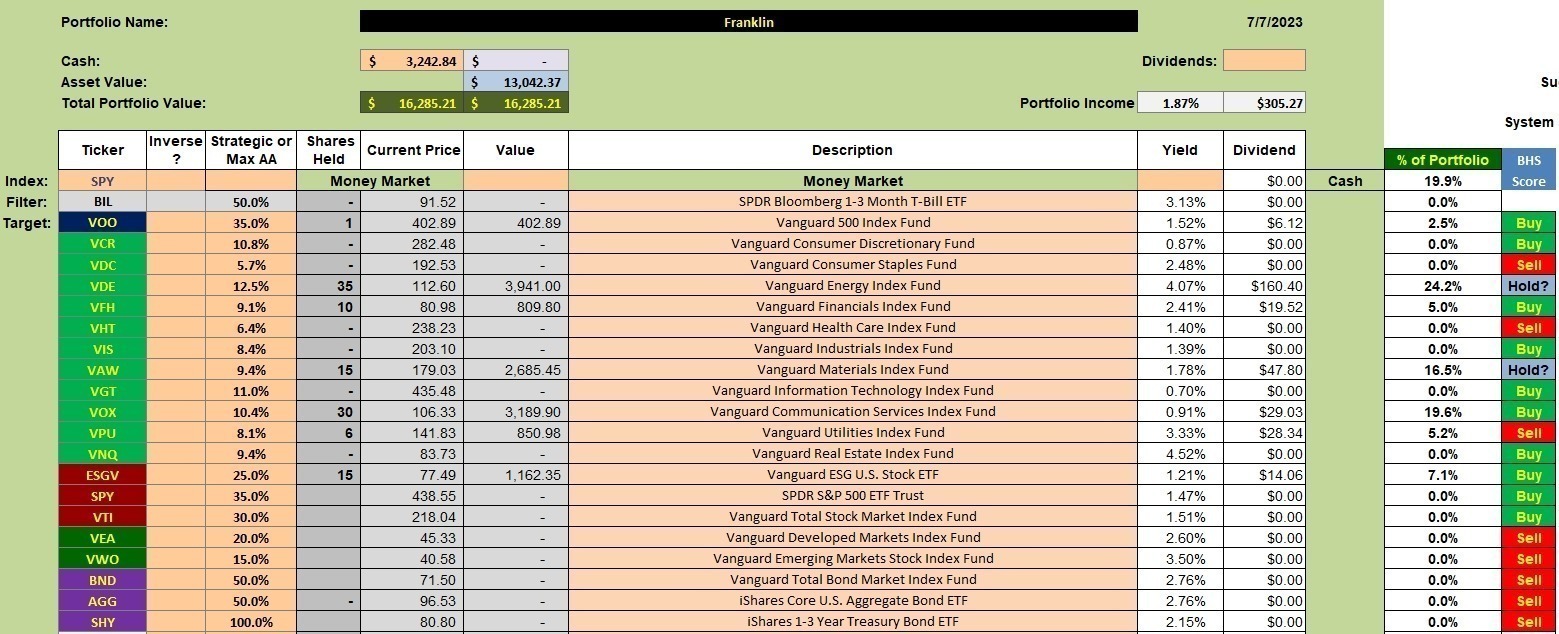 Franklin Security Recommendation
The following worksheet comes out of the Kipling spreadsheet (available to Lifetime members).  With the look-back periods set to 60- and 100-trading days and the model set to Buy-Hold-Sell (BHS), we look for the highest ranked ETFs among these securities:  VOO, ESGV, SPY, VTI, VEA, VWO, BND, AGG, and SHV.  In the above screenshot I see where the last security listed is SHY.  That should read SHV.
Of these ETFs, ESGV holds the highest rank at #2.  VOO is next at #6.  Therefore, we will fill ESGV first followed by VOO.  Should any cash remain the next ETF is SPY with a rank of #7.

Franklin Manual Risk Adjustment
With the SD Multiplier set to 1.37 and the Maximum Portfolio Risk at 9.2% the recommendations are as follows:
Add seven (7) more shares of ESGV for a total of 22 shares.  Note the recommendation is to sum to 22 shares.
Add three (3) shares to the existing one so VOO totals four shares.
While four shares of SPY are recommended we only have cash to add three more shares.
These orders will be set after the market opens on Monday.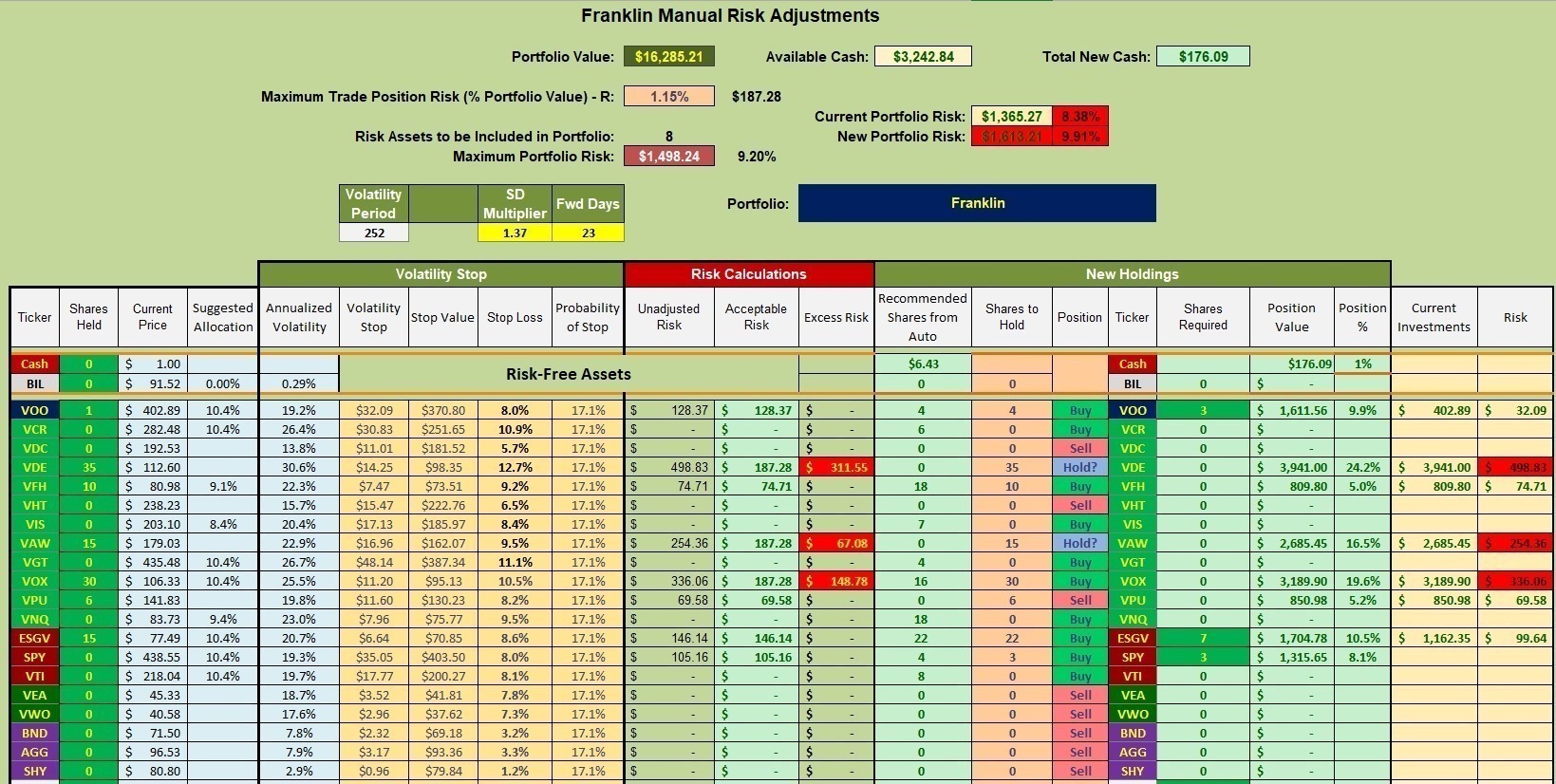 Franklin Performance Data
After 18+ months of operation the Franklin is edging out the SPY benchmark by a fraction of a percentage point.  The lead is greater for the other five potential benchmarks.

Franklin Risk Ratios
The Franklin only managed two positive months of the Jensen Alpha over the past years.  The good news is that the slope of the Jensen is positive.
A positive Information Ratio shows the portfolio is outperforming its benchmark, but not by much.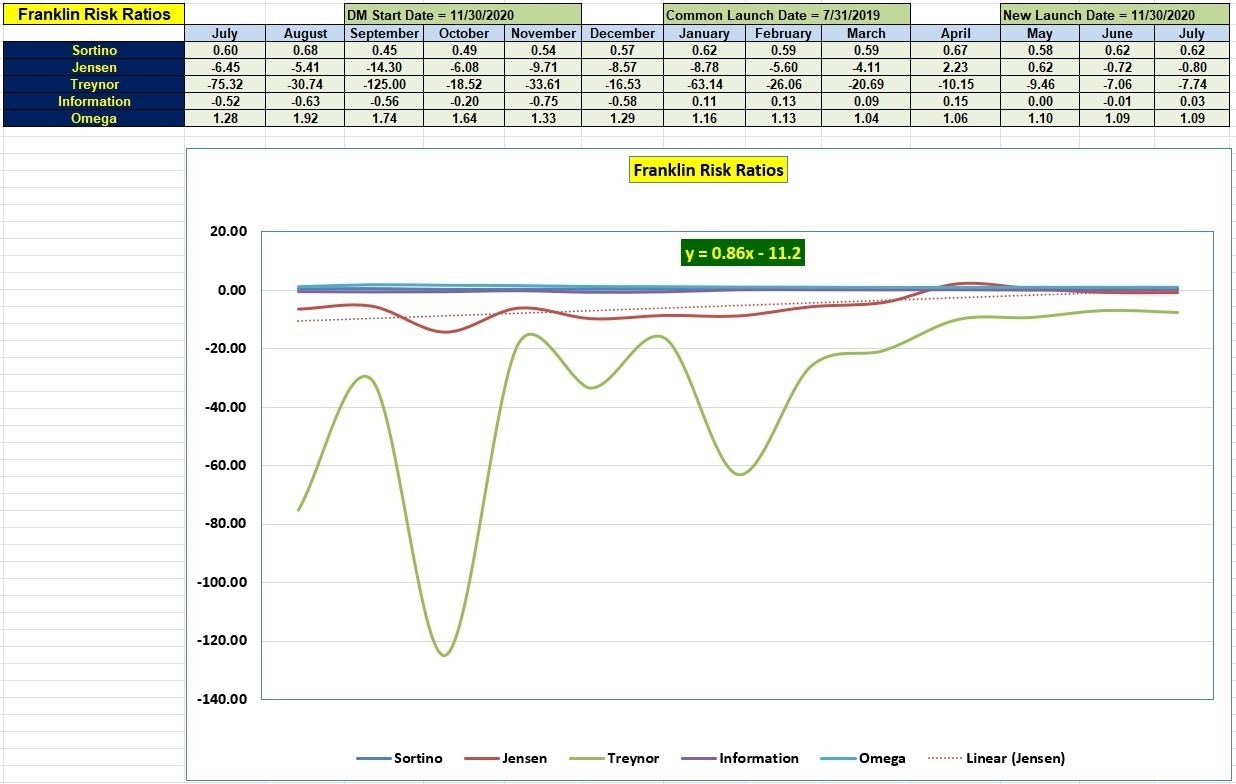 Tweaking Sector BPI Plus Model: 20 May 2023
ITA is free to all who register as a Guest.  Pass the URL [ https://itawealth.com ] on to your friends and relatives.
(Visited 32 times, 1 visits today)