After spending the past few weeks repositioning several portfolios, Bethe being one, security transactions should decrease over the next few months.  A strong stock market last week pushed several sectors out of the oversold zone leaving only Staples and Materials as the remaining Buy options.  The Sector BPI Plus portfolios I'm tracking hold the recommended percentage – with few exceptions.
Bethe Security Holdings
Below are the current holdings for the Bethe portfolio.  The recommended percentages are found in the third column from the left and the actual percentages as of last Friday are found in the far right column.
Bethe Manual Risk Adjustments
There is sufficient cash to purchase one share of VAW and a limit order is set to buy a single share.  Otherwise, the Bethe is well positioned as we wait for populated sectors to rise into the overbought BPI zone.

Bethe Performance Data
Over the past 22 months the Bethe is topping the SPY benchmark by nearly 1.5 percentage points.  The goal for the Bethe is to match or exceed the SPY benchmark.

Bethe Risk Ratios
November is off to a fine start and we see this in all five risk values.  The current Jensen Alpha value is the highest its been since last February.  If this trend continues the slope of the Jensen should turn positive before spring.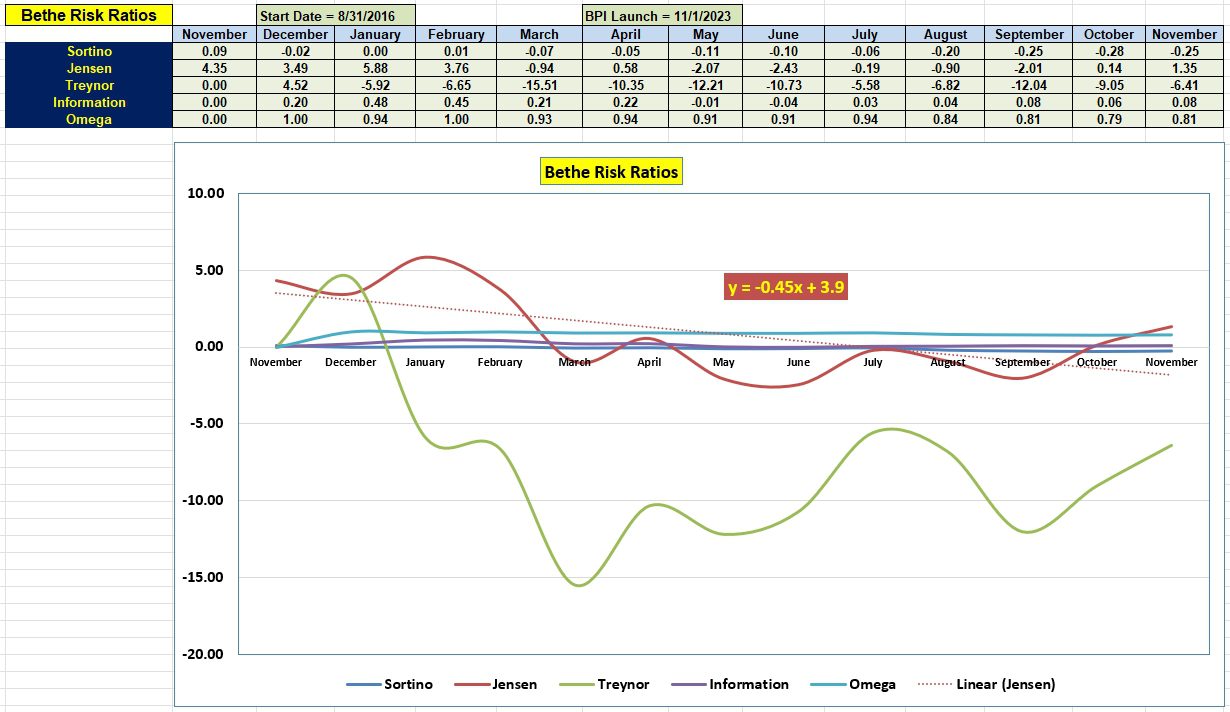 Bethe Portfolio Report
The following Portfolio Report is included more for illustration purposes than for its fundamental data material.  First, the table begins at the beginning of this year as Bethe has not been using the Sector BPI model as long as other portfolios such as the Carson.  Had Bethe been using the Sector BPI model this past year the IRR would be 17.6% or an excellent return.  Note that only three sectors lost ground.  In addition, VOO and VTI did not help the portfolio.  ESGV performed much better although it was part of Bethe for only a short period.
This time next year we will have a much better grasp as to how well the Sector BPI model works.  Not only will there be additional historical data, but many more portfolios are now using this model.
Thus far the data is very encouraging.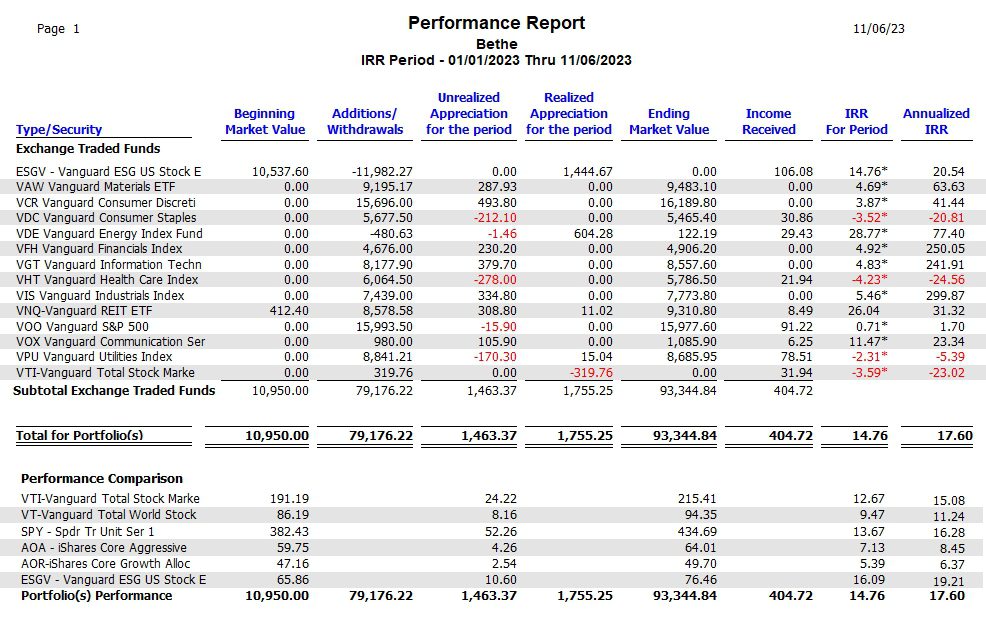 Here are examples of other portfolios using the Sector BPI model.  To see all the data one needs to register as a Guest and wait for me to elevate them to the Platinum level.
Tweaking Sector BPI Plus Model: 20 May 2023
Gauss Portfolio Update: 19 March 2023
Millikan Sector BPI Update: 20 July 2023
Franklin Portfolio Review: 21 July 2023
(Visited 18 times, 1 visits today)