Of all the Dual Momentum™ portfolios, the McClintock stands out as the top performer.  The exact reason remains somewhat of a mystery.  I attribute the excellent performance to the luck-of-review-day as the operational model is the same for all the DM portfolios.
Based on five years of data with four different Dual Momentum (DM) portfolios, the DM model not the Holy Grail of investing.  I plan to keep the McClintock running through 2023, but changes are coming to the Franklin, a DM disappointment.
McClintock Dual Momentum Recommendation
Below is the the Tranche worksheet from the Kipling spreadsheet.  This screenshot shows the ETFs used to populate the McClintock and the current holdings.  The November recommendation is to move all money into International Equities (VEU).  VEU holds both developed and emerging market equities.  As a result, VEU is a combination of VEA and VWO.
This morning I sold all shares of BND and 75 shares of SCHP in order to purchase shares of VEU.  More limit orders are in place to sell all shares of SCHP and add to the 200 shares of VEU currently in the portfolio.
With the market moving up I'll continue to hang on to ESGV and VOO.

McClintock Performance Data
Since 11/30/2020, now nearly two years ago, the IRR for the Period for the McClintock is near 15% while the AOA benchmark is approximately 2.0%.  It will be difficult to maintain this percentage separation.

McClintock Risk Ratio
Over the past year, a difficult period for U.S. Equities, the McClintock has maintained a high Jensen Alpha value.  Checking the Information Ratio, the McClintock has consistently topped its benchmark (AOA).
With the recent uptick, the slope of the Jensen moved back into positive territory – barely.
We expect the Treynor curve to show extremes as it is highly linked to the portfolio beta.  When a portfolio moves into low volatile instruments, such as bonds or treasuries, the portfolio beta will rise in value and that in turn will cause the Treynor to spike up.  That is what happened last May and June.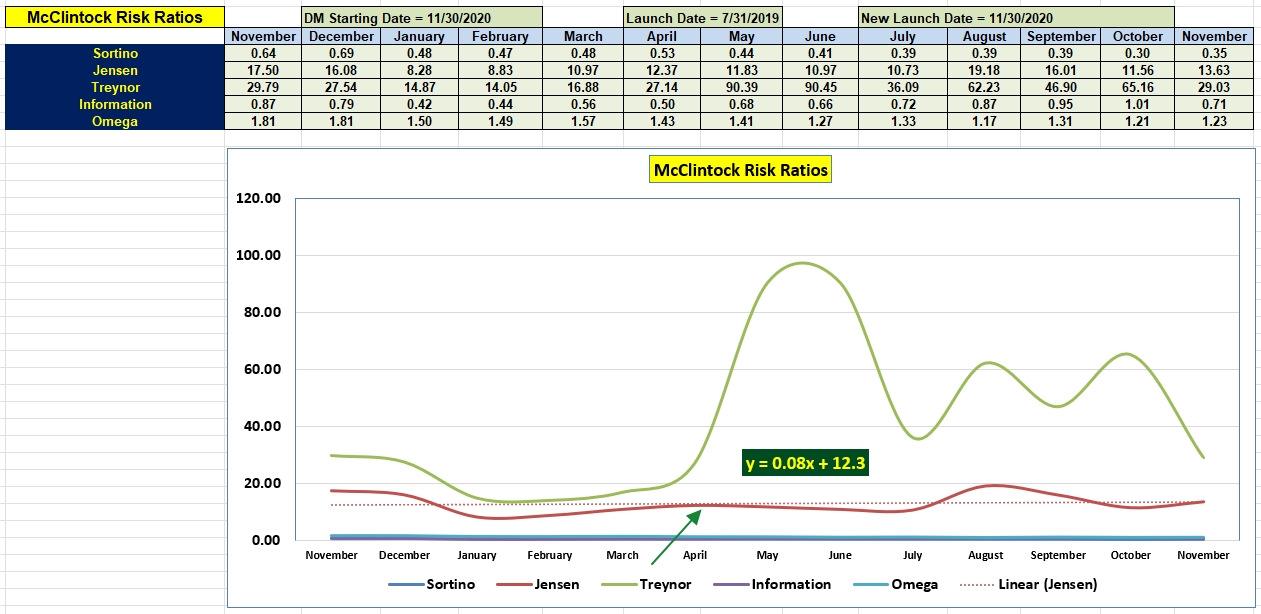 Within the next two weeks I plan to post another performance blog.  Portfolios currently lagging the Schrodinger will be closely monitored and are subject to some management changes.
(Visited 74 times, 1 visits today)