In a holiday-shortened week US equities were relatively quiet but managed to close the week up ~1% from last week's close: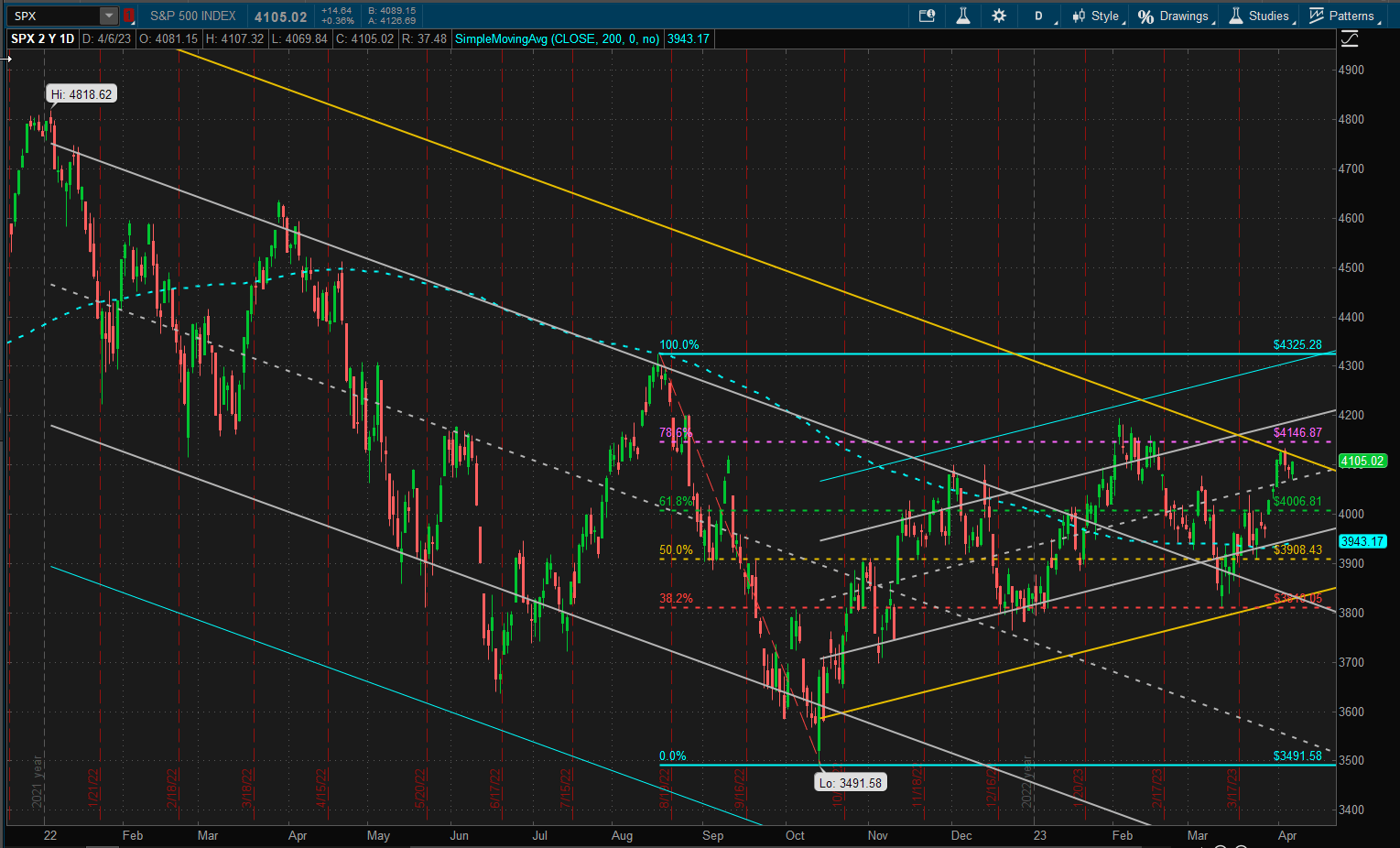 However price is still hanging around in that pendant pattern (defined by yellow boundary lines of the bearish and bullish 2 SD channels) and we still have no obvious reason to favor either a bullish or bearish trend. In fact, on a relative basis, equities were the poorest performing asset classes this last week with all the other major asset classes showing better performance: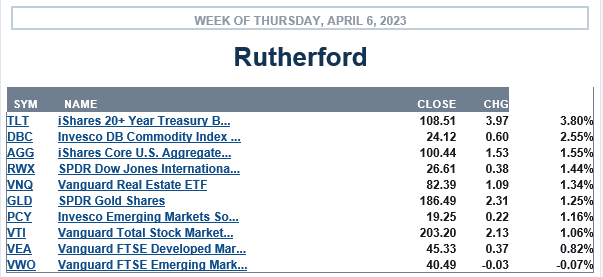 We are "rebuilding" the Rutherford portfolio, week by week, as we focus on the different tranches after the rotation model took us to 100% Cash about a month ago. Tranche 3 (the focus of this week's review) is one of the 2 remaining tranches still holding 100% in Cash:

Performance of the portfolio to date (since moving to the rotation model) looks like this: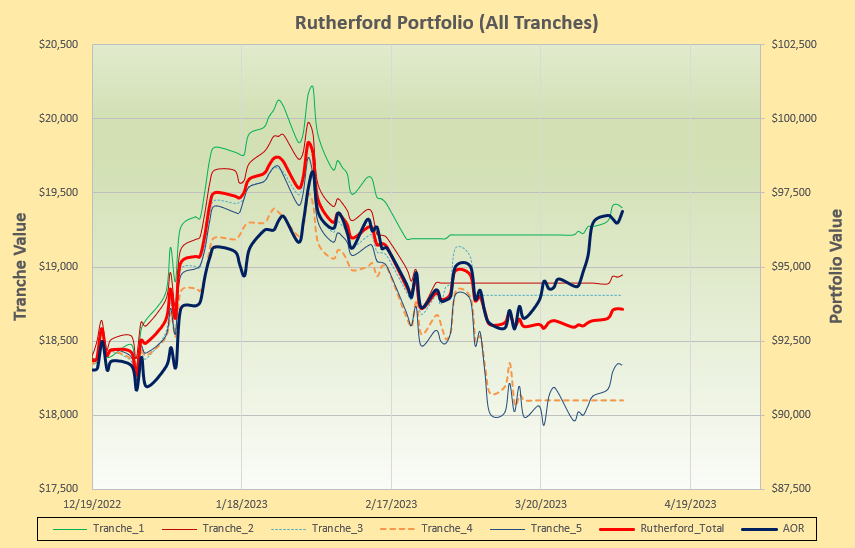 so, after a promising start, we are presently playing catch-up to the benchmark AOR fund.
Let's take a look at the current rotation graphs: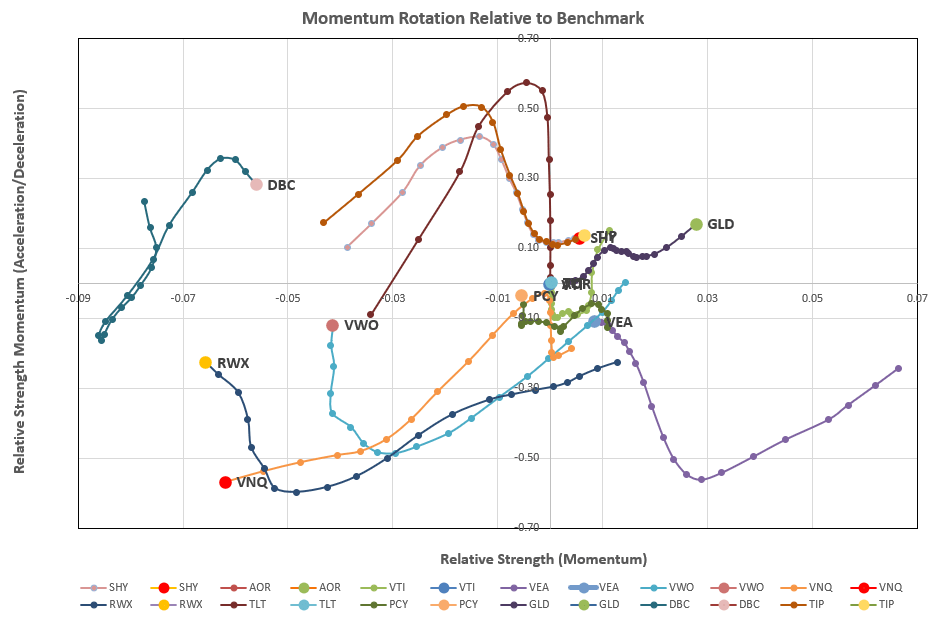 where the strongest looking asset in our quiver is GLD (Gold) – moving diagonally upward in the top right quadrant.
We'll confirm this by checking the recommendations: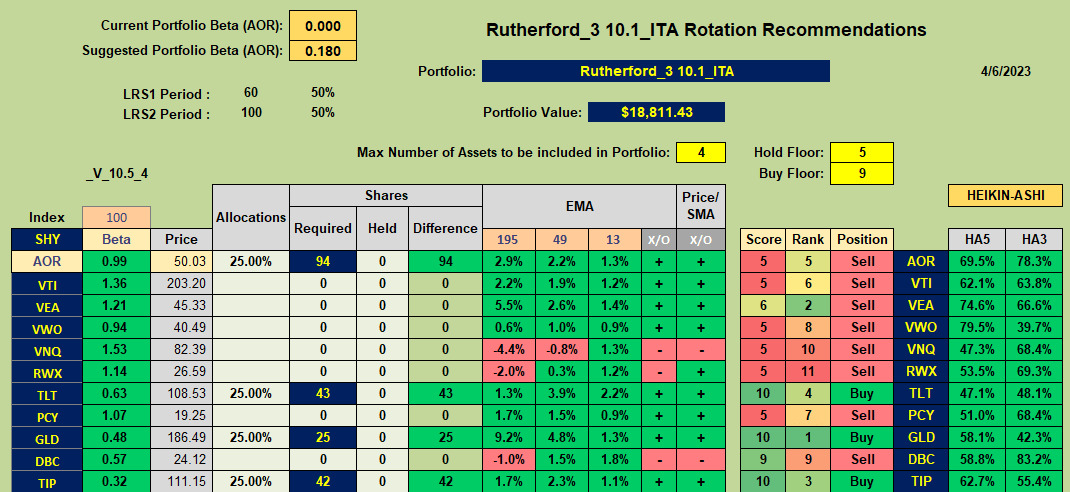 where, as we saw last week, GLD is joined by TLT and TIP as the recommended assets to Buy. Maybe significantly, the benchmark AOR fund is not a recommended Buy this week as it was last week. This means that I will remain on the defense by using 75% of the available Cash to adjust as follows:

Last week I showed the recommendations from all the models built into the Kipling Workbook (https://itawealth.com/rutherford-portfolio-review-tranche-2-31-march-2023/) and I thought it might be of interest to readers to see the relative performance of all these models since 2019 (pre-Covid). If interested, check the site over the next few days as I shall be posting the results!
David
Portfolio Management In A Volatile and Bearish Market
ITA Portfolios: Summarizing Investing Approaches
(Visited 47 times, 1 visits today)