Yesterday I received notification from Schwab that the Intelligent Portfolio had been rebalanced.  Since this is a rather infrequent event I decided to update the Schrodinger to see what changes occurred.  There are a number changes and one would need to go back a review or two and compare the portfolios.
Schrodinger Investment Quiver and Holdings
Below is the current investment quiver and holdings for the Schrodinger.  Keep in mind that the Kipling, and in particular the following worksheet, are in no way used to manage the Schrodinger.  This portfolio is on "automatic" pilot, managed entirely by a computer algorithm.
VEA was recently added and a number of shares were finally added to PXF.

Schrodinger Performance Data
Over the past 21 months the Schrodinger managed to outperform the SPY benchmark by a very small margin.  The lead is much greater when compared with ESGV, AOA, and AOR.

Schrodinger Risk Ratios
Despite outperforming SPY, the recent increase in short-term interest rates and increased risk due to recent additions, the Jensen dropped significantly.  That drop in turn flipped the slope of the Jensen from positive to negative.
The Information Ratio is at its low point over the past year.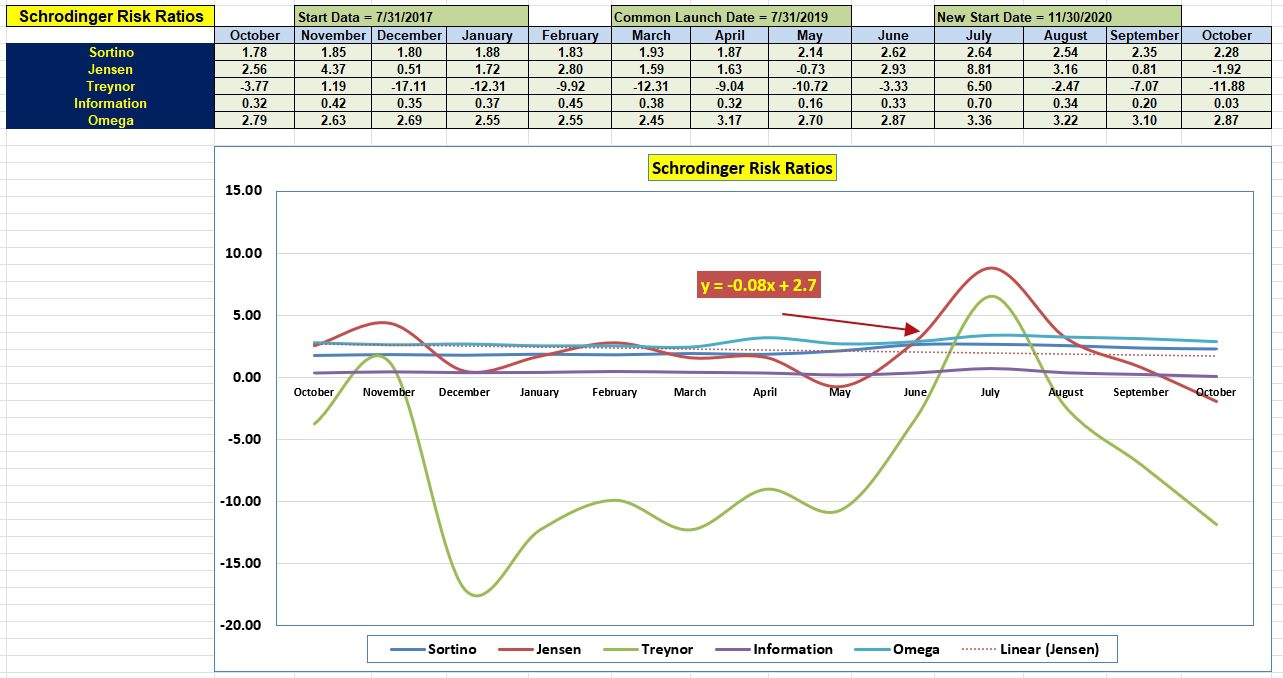 Below are two past Schrodinger reviews.
Schrodinger Interim Update: 19 October 2022
Schrodinger Computer Manage Portfolio Update: 7 June 2023
(Visited 33 times, 1 visits today)