Several Sector BPI Plus portfolios are scheduled for review this week.  Franklin is the first.  I checked the BPI data this morning and it is too early for any Monday data to show up.  I expected to see the market move up based on the U.S. Government remaining open for business.  Instead, the market opened down.  Interest rates are still high and the budget still needs to go through the same sieve in another 46 days.
Let's look at the Franklin and see what needs to be done early in October.
Franklin Investment Quiver and Holdings
Below is the current investment quiver and holdings.  The one sector ETF that shows a Buy and for which the Franklin holds no shares is VNQ.  Little cash remains so it makes sense to let this portfolio ride until the next review.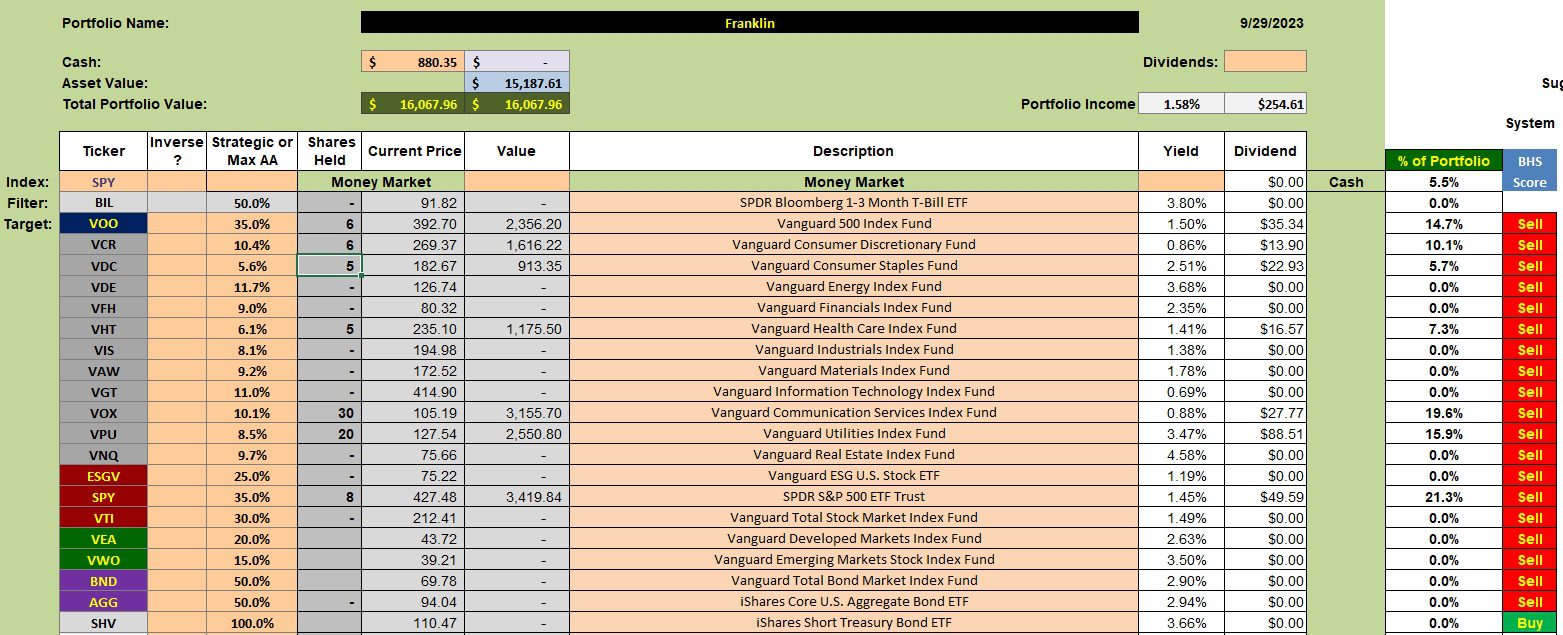 Franklin Security Recommendations
No equities are recommended for purchase when the BHS model is used.  I may set a limit order to pick up a few shares of VNQ as that sector is still showing up in the oversold zone.  Remember that the sector ETFs recommendations come from BPI data, not the following worksheet from the Kipling spreadsheet.

Franklin Manual Risk Adjustments
The Franklin will need to wait for the next review before any changes are made unless I set a limit order to pick up a few shares of VNQ.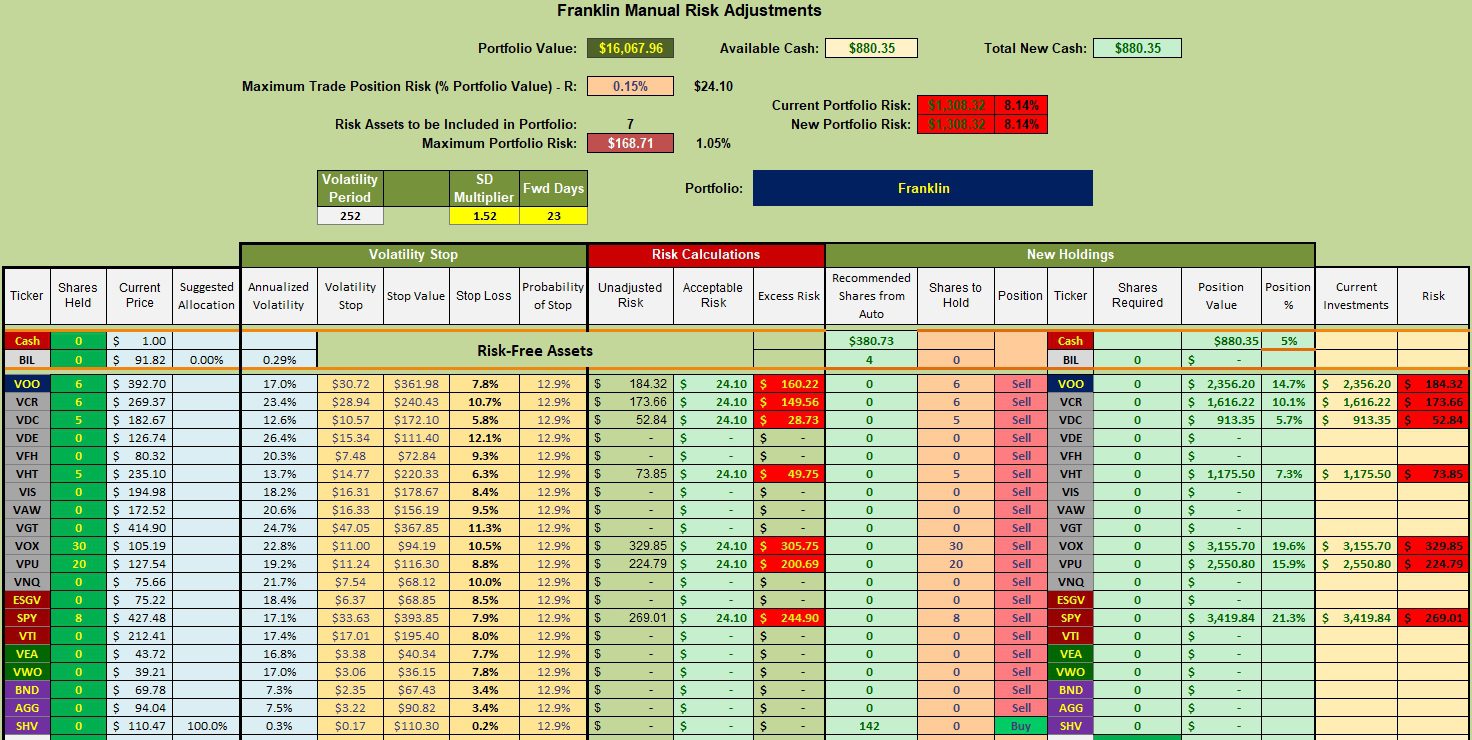 Franklin Performance Data
Over the past 21 months the Franklin outperformed the SPY benchmark by a small margin.  The difference (delta) is a tad larger when compared with the other potential benchmarks.

Franklin Risk Ratios
Despite outperforming the benchmark, the Jensen Alpha is still negative.  The risk for the Franklin is such that we would be better off holding all money in the money market.
One encouraging value is the positive slope (0.85) for the Jensen.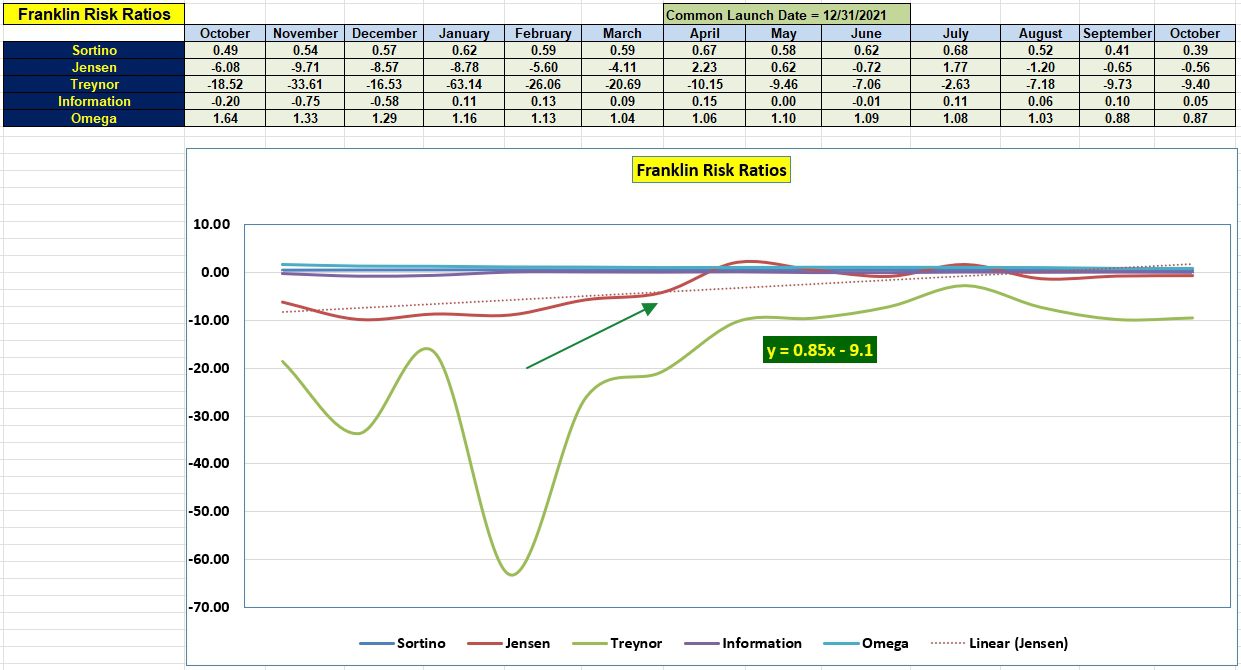 The ITA blog is now free to all who register as a Guest.  I will then move the Guest up to Platinum so you can read nearly all the blog posts.
Buying Guidelines For BPI Model Portfolios: 9 December 2022
Tweaking Sector BPI Plus Model: 20 May 2023
(Visited 34 times, 1 visits today)