An unusually wide range week in US equities with the SPX trading in a 4050-4300 point (6%) range – but, at the end of the week, we closed down only ~0.25% from last week's close: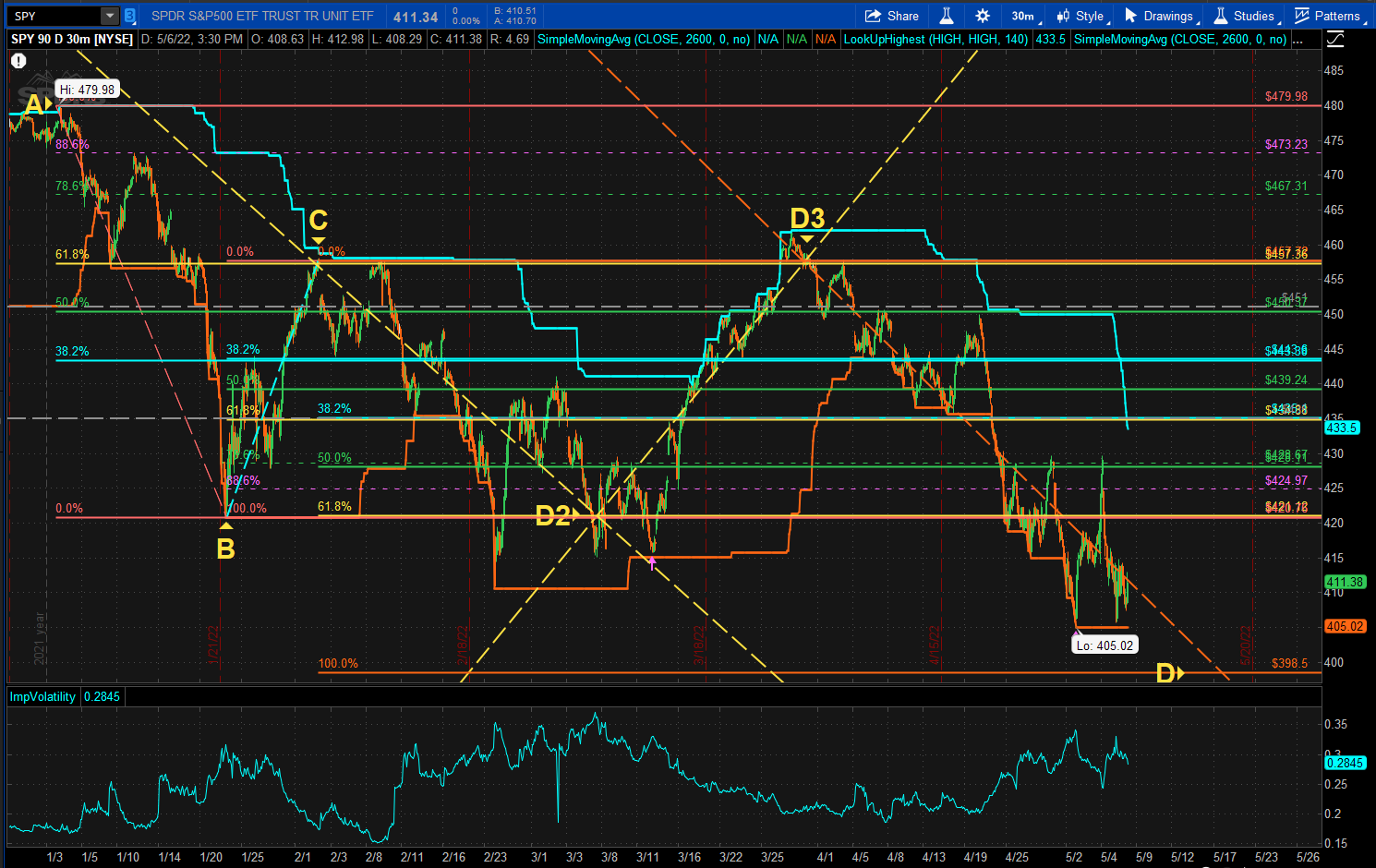 Nevertheless, we are still in the downtrend channel that I drew ~1 month ago and still looking to touch the important 400 (SPY) "round number" at D. However, we could see a little consolidation in the 400-420/405-430 range if volatility settles down a little bit. US Equities are currently down ~14% since the beginning of the year.
Checking how last week's performance compares with the performance of other asset classes: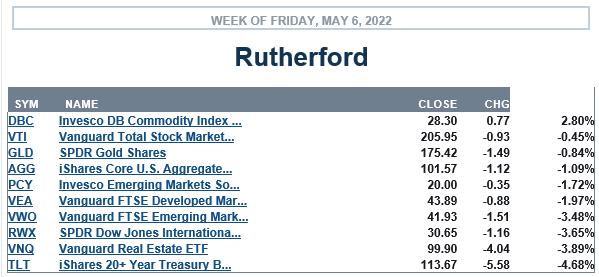 we see that, other than Commodities, US equity markets held up fairly well (albeit with negative returns). Again, we see that the inverse correlation between equities and bonds is broken – with US long-term treasuries taking the biggest hit – so much for the benefits of diversification for a while.
If we check the performance of the Rutherford Portfolio (heavy red line), although it is struggling to keep it's head above water, the portfolio is up 0.5% since the beginning of the year – so, not doing too badly on a relative comparison: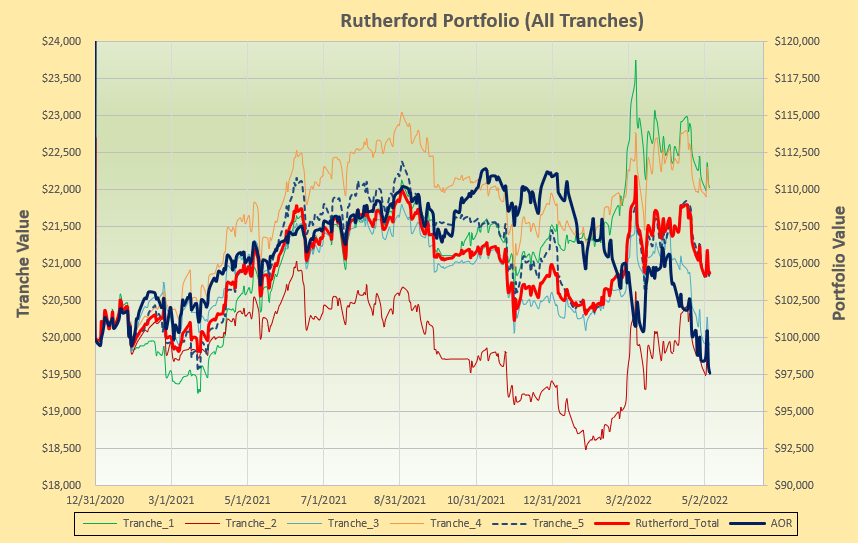 Current holdings look like this:

Let's check on current rankings and recommendations from the BHS model:

that is still showing only DBC and GLD as Buy or Hold candidates.
Let's see if the rotation graphs are giving us any more information: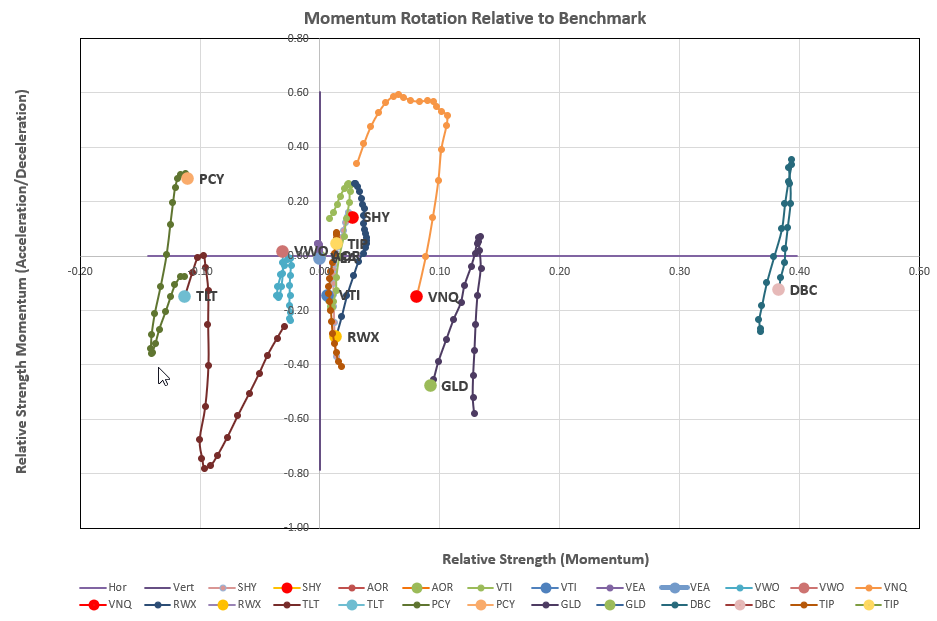 and we see that there is not too much positive action either on the longer-term timescale (horizontally) or short-term (vertically).
Checking recommendations from a rotation model: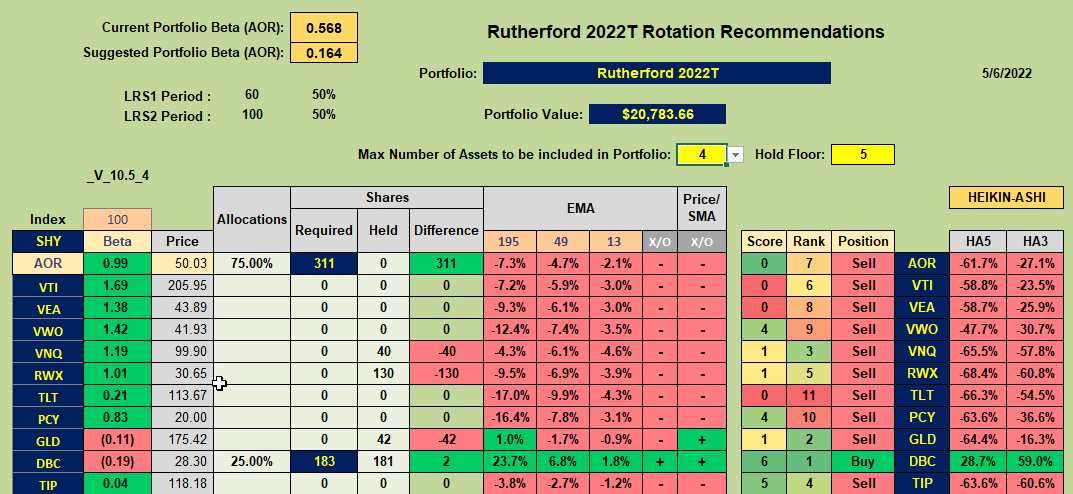 we see a lot of red and only green in the area of DBC.
Although I have reached my maximum planned allocations to DBC and GLD (~25% portfolio value in each) I really can't see any better option than to sell current holdings in VNQ and RWX (Real Estate – interest rate sensitive) and to invest a little more in DBC. TIP might be an option (with dividend benefits) but I'll hold back on that idea for another week. I'll go with the decision to overweight commodities (that includes Oil):

David
(Visited 89 times, 1 visits today)